<![if !vml]>
<![endif]>
<![if !supportLineBreakNewLine]>
<![endif]>
<![if !vml]>

<![endif]>ENGLISH TAVERN
w/ Canopy Top
$2998
(Kauri, wood table top)
Price Includes:
English Tavern Bar (4 pieces)
SOLID BRASS handles
NEW IMPROVEMENTS from previous models
A location for a small compact refrigerator in the front section.
Choice of STAIN colors
Brass Footrail Option
Industry Poly FINISH.
SIZE OF THE BAR (Regular English Bar)
80" Width  (96" width is available)
75" Depth (reduced depth) or 82" Depth (standard depth)
89" Height – options available to reduce.
Distance from floor to top section is 79"  (6'5")
Back Section is 16" in depth (both models)
Front Section is 30" in depth
(all dimensions could vary by 1")
A standard 8' ceiling is 96"
WOOD TYPE
East Indian Kauri ($2998)  Mahogany ($3598)
mahogany price effective 1/1/06 due to new supplier (savings of $400 per bar)
<![if !supportLineBreakNewLine]>
<![endif]>
TABLE TOP OPTIONS
wood (base price), marble, or granite

WOOD CONSTRUCTION
All Wood – hand-made
KILNED WOOD
<![if !supportLineBreakNewLine]>
<![endif]>
STAIN COLORS & FINISH
There are six basic colors and four special finishes.  Look at the actual pictures posted on the past shipments page to judge current colors.
<![if !vml]>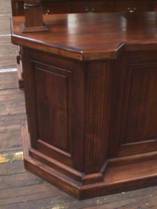 <![endif]>
Danbury Brown
English Tavern

<![if !supportMisalignedRows]>
<![endif]>

with canopy

80" Width Model

<![if !supportMisalignedRows]>
<![endif]>

Regular-Large

wood

marble

granite

<![if !supportMisalignedRows]>
<![endif]>

Kauri

2998

3997

4197

<![if !supportMisalignedRows]>
<![endif]>

Mahogany

3598

4697

4897

<![if !supportMisalignedRows]>
<![endif]>

Special Canopy

add $725

<![if !supportMisalignedRows]>
<![endif]>

96" Width Model

<![if !supportMisalignedRows]>
<![endif]>

Regular-Large

wood

marble

granite

<![if !supportMisalignedRows]>
<![endif]>

Kauri

3698

4697

4897

<![if !supportMisalignedRows]>
<![endif]>

Mahogany

4398

5397

5597

<![if !supportMisalignedRows]>
<![endif]>

Special Canopy

add $850

<![if !supportMisalignedRows]>
<![endif]>


English Tavern JR

<![if !supportMisalignedRows]>
<![endif]>

without canopy

80" Width Model

<![if !supportMisalignedRows]>
<![endif]>

Regular-Large

wood

marble

granite

<![if !supportMisalignedRows]>
<![endif]>

Kauri

2298

3297

3497

<![if !supportMisalignedRows]>
<![endif]>

Mahogany

2798

3797

3997

<![if !supportMisalignedRows]>
<![endif]>

96" Width Model

<![if !supportMisalignedRows]>
<![endif]>

Regular-Large

wood

marble

granite

<![if !supportMisalignedRows]>
<![endif]>

Kauri

2748

3747

3947

<![if !supportMisalignedRows]>
<![endif]>

Mahogany

3248

4247

4447

<![if !supportMisalignedRows]>
<![endif]>

<![if !supportMisalignedRows]>
<![endif]>

New Mahogany prices are effective 1/1/06 – this is the next scheduled production run of mahogany.
<![if !supportLineBreakNewLine]>
<![endif]>

Special Canopy

<![if !supportMisalignedRows]>
<![endif]>

(exclusively designed at English Bars)

<![if !supportMisalignedRows]>
<![endif]>

The Special Canopy includes an enlarged canopy (in height) with forward facing stained glass.  The forward facing stained glass is included in the price.  The height goes from 89" to 93".

<![if !supportMisalignedRows]>
<![endif]> <![if !supportMisalignedRows]>
<![endif]> <![if !supportMisalignedRows]>
<![endif]> <![if !supportMisalignedRows]>
<![endif]> <![if !supportMisalignedRows]>
<![endif]>

<![if !supportMisalignedRows]>
<![endif]>

Marble/Granite

<![if !supportMisalignedRows]>
<![endif]>

current as of October, 2005

<![if !supportMisalignedRows]>
<![endif]>

Currently, there are 3 marbles and 3 granites to choose from.  The marbles include black, brown (new) and dark green.  The granites include absolute black, black with color, and a new green.

<![if !supportMisalignedRows]>
<![endif]> <![if !supportMisalignedRows]>
<![endif]> <![if !supportMisalignedRows]>
<![endif]> <![if !supportMisalignedRows]>
<![endif]> <![if !supportMisalignedRows]>
<![endif]>
$2998