Designed Exclusively at EnglishBars.com
Canterbury
starting at $3498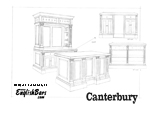 Here's a simple, yet, elegant bar design. We've utilized our 1/4" canopy concept to give our small bar a big feel. Hidden into the side of the back bar are two levels of stem glass racks - one on the right and one to the left. The upper bar includes STAINED GLASS (included in the price).
PICTURES OF THE CANTERBURY
first pictures of the prototype Bar #196
The height of this bar is 95", the width is 60" and the depth is adjustable. The front depth is 28", the back depth is 26" and the middle should be a minimum of 24". Therefore, this is basically designed for a depth of 78"+.
We have completed the STANDARD interior of this bar - although not posted.
If you like this design, be sure to look at the English Tavern JRII. The JRII is lower in price and features a similar 1/4 upper canopy section.....with our standard English Tavern front. The JRII comes standard 80" in width and is also available in 96". The Canterbury comes standard 60" and available until 80" in width.
We are only offering this bar in mahogany.
Available 60" to 80" in width

Front & Back
Complete
Front
Only

Back
Only

60" standard model (front & back)
$3498
$1400
$2298
70" model
$3998
$1600
$2698
80" model
$4498
$1800
$3098
61"-79" custom width model
$4998
$2100
$3398
This bar may be extended to a maximum width of 80".
This bar is not offered in widths to exceed 80".
This bar may be reduced in height by up to 6" - 95" to 89" for $500.
A reduction in height of 1"-2" may be achieved by removing some of the toe kick at $250.

Customized Interiors are available at a minimum of $500 up-charge.
Options for this bar include:

2" Wood Front Railing
$375
Wet/Dry Sink (undermount)
$285
Wet/Dry Sink (w/lip for wood)
$350

Stone Top Options

Black Marble
$750
Brown Marble (new)
$750
Green Marble
$750
Black Granite
$999
Prices are for the standard 60" model.
add 15% for 70" models and 30% for 80" models to wood railing and stone tops.

To view the pdf tech file on the Canterbury, click the pic below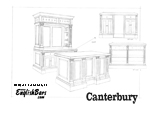 This bar is available TO ORDER now.