UPDATES
12/20/08
NEW SITE LAUNCHED
This site has been moved to a new website platform. Originally this site was www.englishbars.com, but we've launched our new site and moved our old site to this website address. This site currently archives our original site from 2001-2008. We'll likely leave this site active for the next few months to year.
If you are interested in ordering a bar, please visit www.englishbars.com.
11/27/08
Happy Thanksgiving........I guess you are bored with the family activities and found the nearest computer?! Or maybe you are shopping early? I am sorry we don't have any black Friday specials.
ECONOMIC NEWS
In April 2007, we stopped orders and worked on completing the ET queue, while making small strides on new designs such as, the Second Empire, Lady Victoria, and a new unnamed bar. Luckily, we started downsizing in early 2008 and concentrating on teak closeouts. When gas prices hit $4.20 in early 2008, I could feel the mood shifting. In June, I had a meeting with some catalog factory manufactures (barn and barrel manufactures). They begged me to kick over the English Tavern design to them.......and let me concentrate on the premium designs. Their orders from the big catalog companies were down to almost nothing. I negotiated to outsource the ET bar....but in July, I couldn't pull the trigger. I've kicked around the idea of discontinuing the ET for about 2 years.....it's like our staple product, but inhibits growth. It's like those stories you read about in college when a company starts selling to Wal-mart....and their sales go crazy.....but they're making nothing.
Since we assume the economy will remain slow throughout much of 2009, our focus will be on new designs, improvements, and Teak Closeouts. We're not going down the discount path and lowering our quality. For the few of you looking for discounts and deals, you need to google further. I'd rather continue to lower our quantity and improve our quality than get in discount wars. Plus, there are more competitor's in the discount quality-regular import bars. If you really want a home bar and need to find a cheaper alternative, you can find regular importers on ebay.
LOW CEILING HEIGHT
In early 2009, we will introduce a bar with an adjustable height of 78" to 88". This will accommodate the basement customers that have a drop ceiling or other restrictions in height. The design is based loosely on the Canterbury. It is not a canopy bar. Remember, the English Tavern can be cut down from 89" to 86"-85" with some success.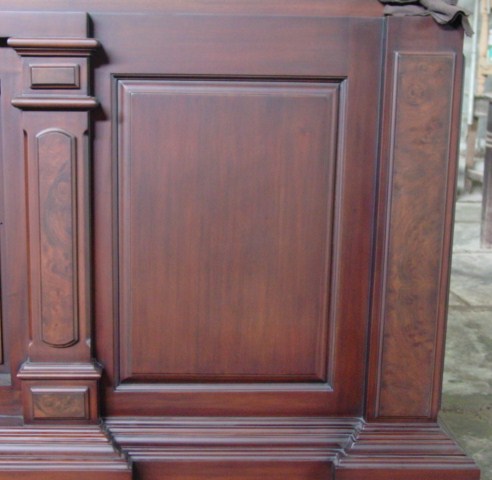 How is this picture compared to the picture below?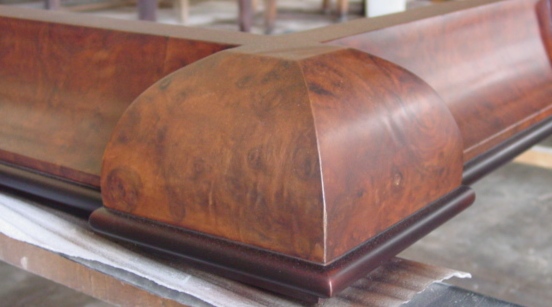 These are pictures of the Second Empire. Notice the heavy base moulding....and fine details.
Although the elements are smaller on the English Tavern, the quality of the ET, the stain, the drawers, and the attention to detail are the same as our newer more expensive bars. The ET is a nice authentic looking english pub home bar.
---
11/19/08
For nearly 10 days, website traffic has been cut in half. I couldn't understand why traffic suddenly dropped so fast - and I was reluctant to believe it was the economy.

Yesterday, I received an email from google stating the website was diverting visitors and had some badware on the site. Of course, this was a surprise to me since this site is nothing more than a bunch of ragtag pages with a bunch of information. After a day of review, it seems our hosting company, IXWEBHOSTING had a server breach and the .htaccess file was changed to divert 'search' traffic to an undisclosed location. This simply means that all traffic originating from a search engine was going to some German site. There was no virus on our site, but the redirect is considered badware (a web no-no). So let me be very clear, we didn't do anything. We're just smart enough to ftp pages to the net, let alone, try some various trickery. We've removed the redirect from the .htaccess and expect everything back to normal.

Anyway, welcome back search engine vistors.

Anyway, since I haven't talked much about bars lately, I thought I would post some information.
Here's a section of the Second Empire (picture to the left). We used various walnut burl accents throughout the construction. Yet, a few days ago, I wasn't very excited about the color combination.


Here we have darkened a sample to show a better match (right pic). Originally, I wanted to keep the burl natural. I was trying to match the body to the darker color in the burl (left pic).

Granted, that looks fair, but the lighter color really stands out and looks funny. I love the lighter color of walnut burl, but it just doesn't bode well with the color on the body.

As I've stated several times on the website, the Second Empire is one of the most exiting designs we've ever created. I suspect that the final pictures will be available toward the end of the year.
---
11/9/08
So, I was playing around tonight and ran across this site. I know if I wasted more time on the internet, I could probably find a lot more of these type sites. And since this is across the pond, I don't mind promoting it. Remember, for you mathematically challenged individuals, these prices are x2 for the USD dollar. In addition, take a look around his site.....I love the gothic elements. Anyway, take a look at the site.

The AUCTION on Bar #205 ends on Tuesday at around 4pm!! I would suggest anyone with a tight budget to seriously look at this bar.


---

11/3/08
The auction started on #205. Please review the information page.

We recorded our largest single internet traffic day on Monday, October 27!!!! Then, we beat it on Tuesday, October 28th! The entire week was more/less close to our peak traffic.

Bar #250
Bar #250 is available at $2500 - with freight damage. Full details will follow within the week. This bar is in relatively good shape - except a busted marble tabletop. This bar will need a new tabletop and some minor repair touchup. The boxes look worse than the unit....and it goes to show you what the instapak foam system can handle. This bar made it to NY and the delivery company ignored our 'Do not break pallet apart' stickers and notes. When they started to lift the front section down, these two men were in for a shock - and drop. All bars are to be delivered to the customer ON PALLETS. In the end, everything is good.....the customer is happy, we received our claim, and now some handyman will be excited to get a new project.

In the past, some customers purchased units with the intentions of removing the tabletop and having a copper top made. Of course, this was back when copper was 50% less than the current prices, but #250 is a very nice handyman special. In case you're wondering what the owner of #250 did......he took #254. We don't control freight delivery.....but at least in those rare circumstances, a cool customer is better than gold.

Again, full details will follow soon on #250.

---

10/20/08
Opppss! We got caught off-guard switching the website from a windows platform to unix servers. Sorry about that. The site was down for 18-24 hours.

In another announcement, we are auctioning a bar starting at a buck!!! The auction starts November 1st until November 10th. Full details are here.

In addition, we have (2) old freight damaged bars that will likely go up for auction/sale in late November. We've had to keep them around for claims purposes. One is in rather good condition and the other requires more extensive work. These will be nice handyman projects for a craftsman, weekend warrior, or someone just trying to buy something on the cheap. We just need to finalize the claims and we will post full pictures.......

---
10/15/08
| | |
| --- | --- |
| | RED BARON'S AUCTION November 7th and 8th, 2008 |
I was out of the country in August, but when I got back I found a catalog in the mail stating Red Baron's Antiques in Atlanta, GA was closing after 36 years. I always enjoyed visiting their website to find original antiques or other oddities. Red Baron's always reminded me of a true J. Peterman type operation. Speaking of J. Peterman....I spoke with him last week at a party. He's a bit different than the character on Seinfeld, but nonetheless original. J. Peterman, like myself, hail from Lexington, Kentucky. The real J. Peterman and Kevin McCloud both are from Kentucky. That famous English Kevin McCloud that has a TV show and writes books is the 'character' Kevin McCloud. He plays me on TV.....but I have more hair and I am younger :)

Anyway, I was disappointed to see the Red Baron's operation close. They are holding a CLEAN UP AND OUT auction on November 7th and 8th. For the few of you with some of your wealth still intact, this might be a neat event to attend. I am unsure if I will attend, but I might visit for the fun of it. I wish I could find information on why they are closing?!

I am back in the country and available in the store after noon most days. I sent my trestle table pics to an online appraisal yesterday and the professional appraiser said, "One of the better tables I have ever seen". That's some pretty strong English! Hopefully, he's not a newbie and that was his first day on the job!

Our target date for the new site is NOVEMBER 1st. The site is as easy as buying an apple computer - about the simplest online ordering system on the web.

We are continuing our efforts at the new designs. These are just slower and more time-consuming. And since we are going to have to ride out this economic downturn, we suspect our change of course was at the right time. There has been a good amount of calls concerning the (5) Grand Devon bars finishing toward the end of the year. If you are interested in this bar, call and speak to me directly. Of the (5) GD bars, (2) will be 96" versions - not previously discussed on the site.

---
9/1/08
The Second Empire is finally near completion. I saw the walnut burl yesterday. It looked great. I am really excited about this bar design. It is one of the most unique and original designs ever offered. The final design was over 2 years in concept.
We launched the teak website a few weeks ago. In the future, remember we also have teak garden furniture available. We buy closeouts from various sources.....with real savings from 30-60% off. We've sold teak in our store for almost 8 years......and I finally decided to take this concept to the web. www.TeakCloseouts.com

The inventory listed in the current inventory section is our only remaining stock for 2008. If you are interested in a bar, this is the only available 2008 stock. As of today, three English Taverns are currently available and ready to ship immediately. The website is finally underway. It's not exactly how I imagined, but it will still be more professional than 'this'. In 2009, you will be able to customize your bar configuration and place your order online.
| | | |
| --- | --- | --- |
| | We found an old picture of Bar #113 sent to us by a customer years ago. You can click the thumbnail for a larger picture. | |
---
7/8/08
I am back at the factory after an 8-month rest. I had a miserable flight back on Singapore Airlines and it was my first flight out of JFK. That will be my last flight out of JFK. I much prefer the Newark terminal and I am disappointed Singapore is discontinuing the Exec Econ class. I guess I will switch back to business class with Korean Air. I do think the Singapore Airport is the nicest airport in the world. It's inviting and intimate and easy to navigate.

I really enjoyed my first springtime in 3 years and couldn't get myself to leave when I should have. Then, by the time I got around to booking the ticket, the miserable summer airline months were here! Finally, after 2-3 days of searching, I had my ticket. And that little switch from 70lbs to 50lbs on international flights really hurt. The small surcharge on domestic flights isn't such a big deal, but it would really add up if I try with 70lbs international (Singapore Airlines). So, I'm dragging 4 large bags through Indonesian customs and I get stopped. They start rummaging through the 100+ hot wheel toys, Ironman crap, and other small gifts I have planned for the employees and suppliers' families. I start to get the 'tax' questions. I explain these are gifts and not to be sold.....and I own a company. Ahh, Indonesian government employees.....my favorite.

---

5/27/08
We've increased the price of the English Tavern to $4798 - still $700 less than some of our competitors selling an inferior model. Shipping rates have also increased due to higher freight fuel surcharges, but we still offer reasonable and targeted shipping rates - not a one-rate for all charge.

Actually, we've been under intense pressure for nearly a year on most of our raw materials. I won't even begin to discuss copper prices, but wood is up 27%, and most suppliers are up 10-30% too. These increases occurred in 2007.......begging the question what will happen in 2008?

And if anyone has seen my copper downspouts stolen from my house, please send me an email.

---

5/3/08
It's taken us some time to finally complete all past orders. And now that we are free of all orders, we will work on some of our pet projects over the next several months. On our slate for the next several months include the (5) 2008 Grand Devon bars, The Second Empire prototype, and maybe a few other new originals.

For the remaining summer, we are not producing any English Tavern bars. The only ET bars available until September is our current inventory - #254 and #251. The new website will be introduced in August with the ability for customers to build and price their bar - including the English Tavern.

One of the new designs incorporates a smaller upper back with the ability for the customer to make adjustments on-site......for a shorter ceiling heights. The new design will have an adjustable upper back with a range of 78" to 88" in height. Naturally, your ceiling can still be taller, but this solution fits a nice segment we've typically ignored until now.

If you ever wanted to know about wines check out this site. It is an amazing wine resource.


---

2/14/08
Here are some pictures of the brass railing we've been working on. I guess I am tired of seeing "the ball" end and wanted to come up with something that reflected more substance. This is our first prototype and will be featured on the first bar, #218. This brass railing will be offered on all straight front bars - like the Canterbury, Second Empire, and Grand Devon.

The end cap was designed by us....this is no India special (where I believe a lot of the standard rail and accessories come from). The construction on this railing is solid. The end caps are not installed or slipped on.....they are wielded. This is truly a custom addition that reflects our commitment to originality forgotten in today's quick and hurried construction.

Now, I know many of you will like this.....but it isn't going to be offered on the English Tavern. The four corners to the English Tavern proved to time consuming and problematic.

Pricing of the new brass railing is not available.
Click the pics for a larger look.

The pictures here are from a 60" Canterbury (for store display).
Small Batch Bar Series
With the recent introduction of the Grand Devon and Second Empire, we are classifying their construction under our Small Batch Bar Series. The Small Batch Bar Series is our premium and select lines of bar/pubs limited to less than 20 per year. We probably couldn't sell more than 20 - but we definitely can't make more than 20.
We are running a promotion on the Sir Walter Corner Bar.
---
1/25/08
There has been an increase of email and activity after Christmas.

I want to make this clear in my no-nonsense BS.....the only inventory that will be available within the next 2-4 months is listed as AVAILABLE on the current inventory page. Therefore, if this is something you are looking at, then place your deposit. It's that simple. About 10 days ago we had (2) ET bars for sale (in-stock and ready-to-go). Well, they sold and the so last 10 days we've received calls from customers wanting to buy the sold bars. Hey, when they sell, they sell. There's no huge backroom. I can remember back in 2005 when we had one of our largest in-stock selections hit the store...which was about 10-11. Within 30 days they were all gone and we received surprised phone calls from people 'planning'.


---

1/17/08
The links to the past shipments are restored. We also uploaded ~15 new sets of pics. Bar #180+ are more current spec (although some could still have modifications).

---
1/9/08

The 2008 English Tavern comes with (2) front interior options. We simply named them Type A and Type B. The picture to the right highlights Type A and the larger picture details the bar as it comes standard. The pictures to the far right show the various configurations.

The bars detailed in the current inventory section have the 2008 configurations.

The past shipments page is not linking to the inventory of past bar pictures. We need a few days to fix the links and correct the problem.
In addition, we've also been working with some marquetry veneer patterns. This is the a tabletop for the Grand Devon prototype before routing. We were debating back and forth concerning the solid wood top and a pattern marquetry tabletop. The white and black inlay seen in the picture caused a great deal of trouble. For the 2007 Grand Devon bars, we decided to ship the solid wood tops, but 2008 will see the new tabletops.

We are also considering the new marquetry tabletops as options with the English Tavern.

---
12/29/07

We sold our first Sir Walter bar and are awaiting installed pictures.

Over the years, we occasionally receive pictures from customers. I've never solicited for pictures or comments, but think it might be time to post a section of past customers. I think it might be interesting to see some of the pictures and hear some of the stories. Some of the pictures look really sharp.....and #206 has his bar in his Seattle 'party lodge'. I will say that most of my customers over the years are all rather cool and laid back. That's about the only way to deal with us anyway. Therefore, look for a new section sometime in the future of pictures. I'll probably start gathering the pictures and seeking permission.

The 2008 English Tavern page is almost finished. It will just detail the available options and clean-up much of the old information.

---
11/20/07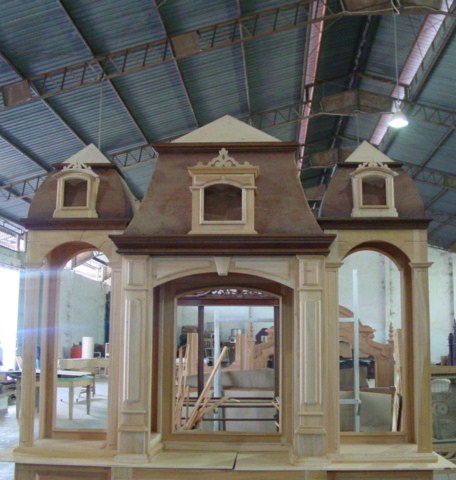 Typically, I am tightlipped concerning new designs. I know how this whole Asian copycat thing works, but I want to give our first real sneak peek at The Second Empire. The Second Empire is our 4th original prototype. You can see the concept behind the design, but you will be amazed at the final product. This product will contain a good deal of multi-colored copper and various elements. The first prototype is about 88" in width. The Second Empire bar design will start at $9990 and have a front bar included. The Second Empire will be available for delivery in EARLY April 2008. This, such as the Grand Devon, will be produced in limited quantities in 2008.

I recently received an email from a China-based furniture manufacture. And I know there are a few others out there also. Listen, here's my thought on Chinese furniture. They find any angle to cut the cost. They apply incredibly good-looking finishes on junk boards of whatever. They're smart marketers of their product - make it look good, keep the cost down, and the consumer really won't ask what the materials are made of. Hey, it's been working in home construction for the last 20 years....so why not furniture? The average American consumer just wants it to look good and fit their price range.

Our building material store bought some Chinese vanities last year. I took a few out of their boxes and destroyed one so I could view the materials. The vanity was advertised as hardwoods and MDF veneer. It was beautiful and I am telling you it was 90% MDF. The legs and trim were solid wood. The sides, door, and frame were all MDF. And they did an incredible job making it all look like wood. It was a beautiful vanity and nonetheless similar to most HomeGoods products. And yes, I am also guilty of buying some of this stuff.

The truth is we serve a very niche market. I assume we will see a flood of Chinese-produced bars soon. I'm a little surprised there hasn't been more on the market yet anyway. Several years ago there was also an Egyptian bar producer. Some of the other websites sell their bars......yet, again, their designs really don't fit American taste. They are too fru-fru old European.

At this point in the game, I realize our designs are superior and we make a product that is rather complicated to duplicate in detail and quality. This may be the reason we don't see more competition. Of course, there are also the Indo copycats. They do the same damn thing.....I call it Indo-izing. They take a product design and screw it up. I think I've talked about this in the past. They just screw-up the proportions and make it completely funky looking.

Anyway, I am back in Lexington and in the store most days after noon. If you are a customer with a pre-existing order, please feel free to call me. Or if you have any questions concerning the bars, then give me a call.

---
10/7/07
All ordered bars are almost through production or finishing.

Along with all the past ordered bars shipping before Christmas, we will also have (only) 6 English Tavern bars available - (4) ET80: 2 brown marble, 2 wood top and (2) ET96: 2 brown marble. In January 2008, we should finally be free of all past orders.

2008 UPDATES

2008 Grand Devon
The Grand Devon is a bit more time-consuming and labor intensive than original planned. Due to the size and delay in production this bar causes, we are limiting the Grand Devon to only FIVE in 2008. We are not guaranteeing when this bar will start in 2008. We will have the (2) 2007 Grand Devon prototypes available by the end of the year. GD001 and GD002 both have small differences. The 2008 Grand Devon will be based on GD002 - the look was substantially stronger in the 3" additional height gain (105" versus 102"). The FIVE 2008 Grand Devon's will be priced at $19,000 each. There is a $5000 reservation deposit to place an order (deposit is refundable). Options and customization is available up until production. Once production starts, there will be no changes. The 2008 Grand Devon will have slight changes from the prototypes.

I know a few customers have emailed concerning purchasing a Grand Devon in 2008. If this is something you are interested in, please don't wait to reserve one of the bars.

McCloud '08
In 2008, we will also release a FULL BAR PACKAGE. This 'bar' will be a complete KIT and have a footprint somewhere in the 22' x 10' range (slightly adjustable after built). The bar will be similar to the Sir Walter with a 6-person booth, stools, and (2) plasma TVs, dartboard, copper, and whole lot of mahogany. We might even include the full appliance package in the price. This bar will also feature a bar tap system for kegs.

This bar will be for the person who is building out their basement and wants to insert a bar package outfit. It will require a carpenter to install - as it will come completely knock-down and need assembly. It will even include a ceiling.

This bar will exceed $50,000.

The Second Empire
I've been doing this for about 6 years now. There isn't a bar design that impresses me or inspires me more than The Second Empire. I still have high expectations for the finished product. And within the last few months, I think I have a vision of how I want the front bar piece to compliment the back piece. The visual effect of this bar is the back piece, but I also want the front piece to be similar in nature, yet not distract from the look.

This bar is about 80" in width and will start at $10,000.

Lady Victoria
Also on the horizon is a heavy Victorian bar similar to the English Tavern, but with some nice intricate features. This bar will be for the people that like 'a little more'.

English Tavern
We wouldn't be here without this bar. The new production system will introduce a variety of interesting options - including new tabletop options.

Personal Note
It's been a difficult two years living in Indonesia. It's just not a very pleasant experience as it continues to wear at my patience. I haven't been very happy missing Christmas '06 and '05. Sometimes, customers ask me what the weather is like and I say 90 and hot. And they reply, NNN-ICE. But, honestly, 90 and hot, 365 days a year, isn't my cup of tea. It is physiologically depressing. When it is December 25th, it is 90 and hot. When it is February 14th, it is 90 and hot. And yes, July 4th is also 90 and hot. I don't think the average American truly appreciates the four seasons. It is something to really cherish.

Past Customers
I do appreciate the letters and comments (and pictures). I hope to post your pictures on the new website. Please send whatever pictures you want me to post.

---
9/13/07
We have implemented the Instapak foam system. We will eventually have more to discuss concerning our new packing methods, but the purpose of the foam is to 'cocoon' the bar in various locations, as well as provide customized corner protecting guards. Since 2001, we have decreased shipping damage claims from 10% to about 2%.

| | |
| --- | --- |
| click the pics for a larger view of the foam. | |
| | |
We've recently started working on the website (again). Hopefully, we'll find the time to actually complete it.

The (3) prototype Sir Walter bars will be the only SW types available BEFORE Christmas. Sir Walter #300 is in-stock now and the other two will be arriving in 45-55 days.
---
7/19/07
Pictures of #187 have been posted. You can follow the link here to view the pics. The copper sink is featured on the last page (3). This is the new slide-in sink we will start offering soon.

We also added the LIVE HELP feature to answer any immediate questions. Hopefully, over the next 3-4 months, we will start working on the website. We're not a slick website selling a bunch of China bars. Our first priority has always been to take care of the factory, increase our quality, introduce new designs and features, and ship something we're proud of. It just seems natural that if we build a nice product and offer it at a fair price, the customers will buy it.

---

7/9/07
Click here for the update and pictures of the first prototype of the #SW300. This is available for purchase now - full pictures and dimensions available.

All bars are either in production or through production. By the end of July, we will start accepting new orders.

---

5/28/07
According to our March announcement, we are modifying, changing, and deleting certain options. The entire website may not contain updated information. The information on this page is current.

We are currently finishing all previously ordered bars and changes are being made to produce the ET as a standardized production bar only. The warehouse is chaotic at the moment, as we renovate and make the necessary changes for the second-half of 2007.

Our number one priority is concentration on new bar designs. The English Tavern will still be produced, but without many of the complicated custom features we allowed in the past.

Also, our new finishes will be based on the previous colors, but with an even more antique look and feel.

We are no longer accepting custom modifications to the English Tavern. This is due to the length of time and logistics in fulfilling such requests. Our 2005 and 2006 output fell over 60% as we continued to fall behind schedule. Therefore, the decision was made to offer the ET as a standardized bar only with limited options. Below is a brief summary of the changes.
Currently, the wood tabletop is the only available countertop. We are temporarily discontinuing the marble/granite. Although this is a popular option, it results in continual delay problems. Until this issue is resolved with a reliable supplier with consistent prices, we will not offer the option.

The front bar interior is available in INTERIOR A or INTERIOR B. The standard interior is INTERIOR A and also labeled 2007 English Tavern STANDARD. The INTERIOR B option features a location for a 24" to 15" full-height appliance (34.5" tall). This also features our patent pending slide-in insert that gives you the option of adding the appliance now or later. INTERIOR B also has a stack of four vertical drawers. INTERIOR B is a good option for people who want to add a full-height countertop appliance now or in the future. Most keg frig units are 24" wide and will fit the location.

The back bar has no options other than a copper sink (2 different models). There is a slight modification to the back specifications in the 2007 English Tavern drawings.

In addition, our marble sinks are temporarily discontinued and replaced with our copper models. Of course, copper prices are going through the roof, but we have reliable high-quality supplier's capable of meeting our requests. Both models are 16-gauge copper (1.5mm) thick. The sink location is either available on the right or left (in the 80" model) or right, center, or left (in the 96" model). The copper sinks are custom made to fit our specifications. It is possible to easily cut the top and install your own sink - if you can find a stock sink that will fit after you purchase the bar.

There is no change or price increase to the Special Canopy.

There are absolutely no height modifications. The heights listed are the shipping heights. You have the ability to trim a few inches from the bottom of the toe kick at your location. The English Tavern countertop ships at 38" tall and if trimmed up to 2", would result in 36" (your standard kitchen cabinet height). We will not modify the height at the factory or in Kentucky.

From time-to-time, we may release limited edition or specially modified English Tavern bars - such as the side insert addition. These bars cannot be ordered and only available when produced.
From time-to-time, we may release limited edition or specially modified English Tavern bars - such as the side insert addition. These bars cannot be ordered and only available when produced.
Mahogany

Wood Tabletop and Standard Interior A

Width
Depth
Height
Model Name
Standard 80"
Large 96"
Standard

Reduced

Standard
English Tavern

w/canopy

$4,298
$4,998
82"
75"
89"
Front Interior option B
+650
+650
SG Special Canopy
+775
+925
taller at 93"

Knock-Down Canopy (80" only)

+750

n/a

16-gauge copper round sink

+385
+385

16-gauge copper logo slide-in sink

to be announced
to be announced
English Tavern JR
$2,898
n/a
70"+
N/A
84"
English Tavern JRII
$3,398
$3,998
70"+
N/A
92"
There are no more customized modifications to the height. You have some limited options that may be adjusted on-site.
KNOCK-DOWN CANOPY +$750

The canopy is typically the biggest obstacle to moving the ET into the home. The knock-down canopy is constructed in 5 major components and may be broken-down into small easy to move sections. Then, once in your location, you easily assemble with bolts and install. Does the knock-down canopy look any different than the regular canopy? No, structurally the Knock-Down canopy is beefed-up on the inside, but the exterior stays the same. The Knock-Down canopy is not available in 96" and/or Special Canopy versions.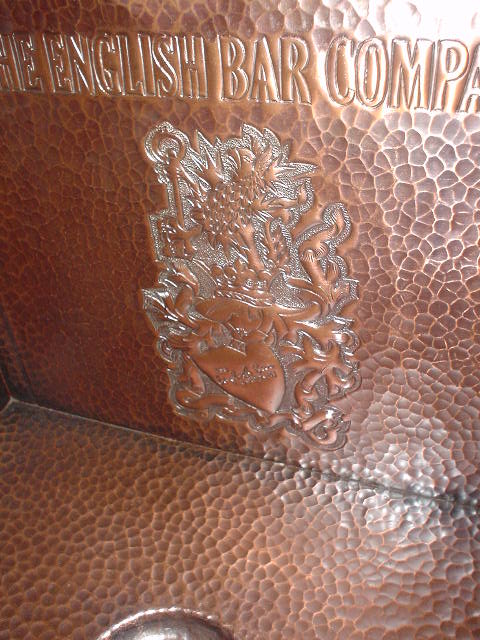 And of course, it wouldn't be complete without giving you a glimpse of the new stuff. By ignoring customers and offering horrible customer service, I have been luckily able to concentrate on new designs again and design some interesting new accessories and options. I really hope by the second half of 2007, I can release all the details. Here is a sample pic of the copper sink. Amazingly, this logo was not beaten with a template, but etched by hand.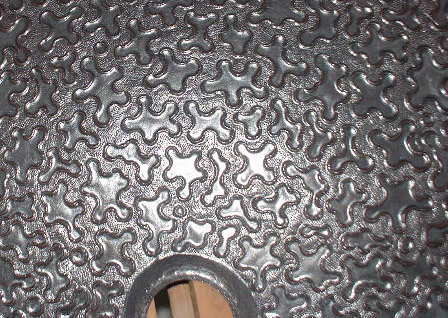 SIR WALTER BARS
Yes, the Sir Walter bars are out of finishing. The copper sinks are being made as we speak. I decided to go with a different sink look for the Sir Walter. This will eventually be offered with the English Tavern, but will first be featured in the new Sir Walter bars. The sink looks black, but is actually copper.


In addition, there will be an assortment of SLIDE-IN sinks for the English Tavern and other designs. As you know, a slide-in copper sink is rather expensive. Ours will be north of $500, but every customer is going to want this sink. The first prototype was flat out bad-ass. It is being designed to fit the new 2007 English Tavern specs and will likely be offered on every bar design we sell. The slide-in uses nearly 3x the amount of copper than the round drop-in.

One of my major goals in 2007, apart from standardizing the ET, is to finally release many of my new design concepts. Don't get me wrong, the ET is nice. It's an 8-year old design that still appeals to a lot of people. It wouldn't be right to just abandon the ET, but it also breaks my heart to see some of the bastardized ET variations on the market. Some people just don't have a clue what is proportional or 'inspiring'........a grape poled bar? Are you kidding me?

I'm ready to release new designs that really push creativity with that flair of excitement in inspiring details. I was pleased with the Grand Devon and the Sir Walter. They both were noble attempts at a good design...and no grapes. I think you will see more copper in my designs. Aside from the ridiculous price increases, I can't believe the versatility in this product. I'll probably finally release the copper tabletop too. I was actually talking today about the teak bench design called the Lutyen's bench. It is a famous bench designed by Sir Edwin Lutyen in the early 1900s. I said how cool it would be to make the horizontal wood pieces in copper....leaving the vertical larger pieces in wood. Anyway, copper has been my focus for the past month.

Hopefully, by the end of June, the English Tavern may again be available to purchase.....
with pictures of finished bars arriving within reasonable timeframes.
After we have built stock again in Kentucky, we will open the ET for orders - not custom, but standard optioned requests.
---
5/05/07
Again, no custom orders or advance sales are being taken now. To put it rather bluntly, WYSIWYG. If you see a bar posted with the words "Available" , then this is for sale. Yet, some of the information on the site is not updated. We are not taking orders for production.
Please read the 3/15/07 announcement.

If you are interested in a CORNER BAR, we have 3 Sir Walter prototypes about to be released within 1 month. Each have variations in details. Each will be the same stain color - an antique historic Danbury Brown distressed stain color. No internet invoice or deposits will be taken until the final pictures are posted with final dimensions and specifications.

---
3/15/07

MAJOR ANNOUNCEMENT

Effective April 1st, 2007, we are suspending custom orders and pre-orders (until further notice).
Watch the website for AVAILABLE bars with listed bar numbers. These may be purchased - as they are already produced.
We are going back to the old system of production, then selling (year 2001-2004).

We are making this change for a variety of reasons, for which we will update in detail later.

In addition, we are also moving all operations to a larger 30,000 sqft facility.

We hope both these changes result in a greater selection of bar inventory for 2007. We regrettably have to make this change to be more efficient and speed production. If you need something custom, I suggest you call your 'local' craftsmen and deal with them.


If you have paid a deposit, your order is not affected!
If you have an internet invoice and not paid a deposit by April 10th, 2007,your order will not be accepted for pre-orders (or custom orders).
If the bar pictures are posted, the bar may be purchased - thus, an internet invoice can be created.
There will be no more pre-order internet invoices issued after April 1st, 2007.

Below are 4 postings that will appear at once.
---
1/22/07
I recently tried to visit an American friend's factory the other day. It was empty. Again, security and a sanding staff of 15. The operation ceased on January 1st, 2007. I don't know the full story since he isn't here. Surprisingly, I thought many of the Jepara-junk factories would be closing before the higher-quality factories closed. He could be moving operations....I just don't know.

I will continue to monitor the situation here. I have always viewed these larger factories as my litmus test for the overall situation here.

One last note, many will claim a 'relationship' with a factory so they can try and say factory direct. This is another BS story. Was your Nevada friend a 'relationship' too? I don't think so. The reality is most of the stuff shipping from here is made in huts with little care about their quality. It is sold to a factory that sprays the stuff with a low-quality finish and wraps it for shipping. It's fast, quick, and ready to be sold cheap.....and meets 60% of the USA customer's expectations. This 60% of the USA doesn't know Henredon or Kreiss either....to them, those are just funny names. To me, they are something to aspire too. And just so I am very clear, we are not their level....we are somewhere in between.

We are a full manufacturing facility where all production phases are in-house. This is costly, inefficient, and not making me a damn penny at the moment. I will entertain bored rich investors that want to dance with me on the wild side.

---
1/15/07
Here is a picture of our drafting table. Here we were going over the Grand Devon glass door inserts.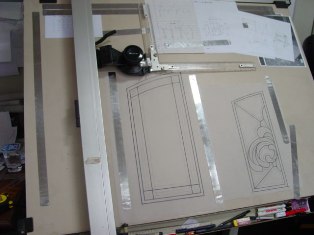 ---
1/10/07


The English Tavern will increase to over $4300 on April 1 (end of the 1st quarter). Our bar is far superior to the others selling similar versions. For the few of you that wonder about buying their bar for $3500 to $4000, take a look at their canopy size (72" deep) versus our two canopy versions (75" and 82"). They are selling the mini-me version that contains roughly 35% less board feet (m/3) of wood. It is not just the canopy that is dramatically smaller, it is also the front bar section (24"-26" in depth). Does that really seem like a good deal? So, really don't be fooled by their close-up pics and think this is the same bar. The original size on this bar was 80"x 80" and has been modified over the years.....and to save costs, many factories have reduced the proportion to save money, lower the price, or whatever you want to say. For some of you, the smaller size may be what is needed. In this case, I suggest you visit ebay. For the few of you that care about the quality, value, and size of their bar, we will take your order. If we have trouble turning a profit, then I know the competitor's bars which must be bought through another factory are a true example of 'get what you pay for'. I know there are bottom feeders in this world....that exclusively look at price. You're not our customer.

The picture highlights the size.....but the smaller bar canopy is our older stock #68 (teak) - we did produce a few. The finish on this bar looks great.

Also, note, the electrical pole conduit is patent pending. It may take some time for the patent, but after approved, I will go after anyone....so enjoy this grace period.

By the end of 2007, we might phase-out the English Tavern to concentrate on our exclusive designs that haven't been copied.

---
12/20/06
Yesterday, I decided to visit a few factories over in the bonded zone to assess the situation here. For the few of you that think we are in England, think again and read the newspaper - there's no low-tech, labor intensive manufacturing in the western world. We are in southern Asia - Indonesia.

My first stop was an old supplier back from 2000....and I hadn't seen him since 2000. The factory was a mess...and of course, for sale. It was nearly 40,000 sqft sitting empty....with a skeleton staff of maybe 10. I'm not sure if his mood turned somber after he learned I wasn't interested in his factory or the mere fact that he was just glum from the many years of beating 'his' head against the wall. There was no warm greeting or a glimpse of a smile the entire time. In many ways, I not only could see his pain, but I could feel it. I don't think I have ever been more depressed about the state of Indonesia than that meeting.

Granted, I deal with the shit everyday, but I have tried to stay upbeat and focused as much as possible. When Indonesia lifted the gas subsidies in late 2005, this had an incredible ripple-effect across the entire economy. Raw supplier's went crazy....trying to raise prices 20%+. It took months of damage control to just negotiate prices back to a reasonable level. Yet, this didn't stop the government from raising basic salaries 26% in our area. It wasn't just the private businesses, but basic government services starting posting double-digit increases. This country was continuing its destructive path to killing all export manufacturing.

As the year 2006 unfolded, I watched as factory after factory shuttered and closed. Indonesia is not the most productive society and their one advantage, labor, was being wiped away yearly in the form of salary increases. Since 2001, minimum salaries were now over 100% in 5 years. And yet again, 2007 also ushers in another double-digit increase at 12%.

Anyway, I guess by the middle of 2006, I stopped paying attention...yet, now, I was in one of the industrial parks (zones) and export furniture manufacturing was virtually non-existent. As I sat across from Henry and listened to his stories of China, I realized the country of Indonesia needed drastic change to stay competitive in today's marketplace. It didn't matter that Indonesia was the 4th most populated country in the world (and everyone needs jobs)...electrical rates were higher than the USA, corruption was still rampant, labor inefficient, infrastructure antiquated, and land rates comparable to the USA. All this, coupled with the hard and soft costs of doing business here, was killing the country's export manufacturing.

I have also come to realize that all 3rd world manufacturing is a nasty game. Playing by the rules and following the procedures is difficult. I don't think being an American is well-suited to owning a foreign factory (unless you are real hard-ass). The reality is factory ownership is a brutal game of cost containment and watching pennies. I remember my dad telling me once when I bought a restaurant that I should get out now....because the restaurant business was a nickel and dime business.....I am the inventor, the creator, the risk-taker, and the designer. I am not a pencil pusher. Unfortunately, the time spent at the factory is only 10% fun now......the rest is management responsibilities or action-reaction problems.

So, for the few of you that watch our site and wonder how the hell we are so slow or they've been talking about doing this for x number of months, above is your reason. I used to be guarded in our operation, but I realize that someone would be a fool to follow in my footsteps......and they couldn't or wouldn't do what I did anyway. The reality is a lot of operations are moving to Vietnam.


---
12/5/06
We are discontinuing the Kauri/other wood option. All Kauri/other wood bar orders placed before this date are still in production/or planned for production.

In addition, we have updated the English Tavern page to reflect the changes for the 2007 English Tavern. We've added and deleted a few production options and increased customizing fees. We plan to increase production.

After continual efforts to increase production, I feel like I just keep beating my head against the wall. I am pleased with our factory efforts, but I am faced with persistent supplier problems. Nobody seems to hold their price and quality is inconsistent. Therefore, I am just canceling all problems. After a real assessment of the situation, I think this is the root problem to many of our delays. Ultimately, I would like to deliver a bar to the customer within 3 months...and we haven't been hitting that target.

I am not displeased with our quality. I constantly tell the customers that I will not ship the bars until I am satisfied....to their frustration and mad emails. We have continued to improve over the years and most of the employees have worked here for 3+ years.

If you want a bar in the first or second quarter of 2007, order it now. You are welcome to add/customize as much as you want, but be aware this will affect your timeframe.


| | | |
| --- | --- | --- |
| | Here is a picture of the soon-to-be-released mahogany wood railing. It will be stained to match your bar color. You can click the picture for a bigger look. There will be no supplier problems with this railing....we made the rail and the ball. | |
---
11/22/06
The brass railing is temporarily not available. You can order the railing from several internet sites after you get your bar.
There are NO custom orders being accepted at this moment.
There is only one bar available before Christmas – Bar #181

All orders submitted for production will be 3 months (no to few options) - 6 months (many options). If you want something sooner, then look for a bar in production or in-stock. If we improve this timeframe, we will make note on the website.

The first Grand Devon pictures will be released soon. Orders for the Grand Devon can be placed now.

There will be a revised pricing structure and different options introduced in 2007. Currently, all prices are correct.

---
10/12/06
I am back in the states. I will start updating the site and posting current information within the week. In addition, if anyone would like to call the store, I am available to answer any questions.

---
8/23/06

I rarely talk about the competitor's....and I'm still not going to do it. But, I am going to post two pictures.

What is picture 2? Is that a dovetail joint? Can you guess what drawer is ours?

Our bars are not perfect, but we're not going to sell you any junk. Maybe one day when I am in a bad mood, I will make a ranting post comparing the differences in materials, workmanship, and details.
---
8/14/06
PRODUCTION CHANGE TO THE ENGLISH TAVERN
Today, we are announcing further improvements and additions to the English Tavern design. Any bar ordered AFTER today will include these changes.

Changes to the 2007 English Tavern include
The drawer heads are wrapped in moulding to compliment the exterior elements (picture 1 and 2).

The tabletop profile is being changed (picture 3, 4, 5).

Additional mouldings are being added inside the upper canopy (not pictured).

The front interior is being changed to a more appealing and functional design. This is now the standard interior on the English Tavern, JR, and JRII. (picture 6).
1

2

3

4

5

6

Note:

Picture 2 shows the new drawer head and tabletop profile with the old standard interior. This is because we immediately implemented changes #1-#3 into current production. Shipment S are the first bars featuring the new change. Any shipment BEFORE features the information provided when ordered.
Price Increase
The base price of the mahogany English Tavern is increasing $100. Thus, the 80" and 96" versions are now $3698 and $4298, respectfully. There is no price increase in the Kauri version. The next planned price increase will be January 1st, 2007.

Brass Railing
The 2" brass railing is causing serious delays. Every brass railing is going back to our supplier for revision to the angles. In some cases, the railing is revised 3-4 times before ready. Therefore, we are being forced to make some changes with our railing. We will now offer our railing as standard and premium. In both cases, the thickness of the railing is the same. There is no difference in the quality of the two versions. The only difference in the premium and the standard version is strictly limited to a one-piece construction (premium) versus a 5-piece construction (standard). The 5-piece construction allows us to modify and adjust at our factory and save considerable time. It also allows us to ship the railing in knock-down packing. The price of the standard railing is not changing - $500 (80") and $600 (96"). The premium railing is increasing +25% to $625 (80") and $750 (96").

All railing ordered before August 14th, 2006 will ship AS ORDERED (premium railing) without any additional price increase.
PAST CUSTOMERS - If you would like to order the brass railing, we will only ship the standard 5-piece railing. We will not ship the premium railing.

Wood Railing
Yes, this is a new idea being developed. The railing will be in wood and stained to match the bar. The angle connectors will be in brass or black metal. The intended price will likely be the same as the standard brass at $500 and $600. We will not go into details about the construction until after we make the first prototype. This will be strong enough to support 2-3 men. Furthermore, we feel the 'beating' to the wood railing will add to the bar's character over time.

Front Interior Refrigerator (refrigerator not included) - no longer current as of December 2006, we reverted back to the Avanti.
The new standard interior (sales orders created after August 14th, 2006) will accommodate a different refrigerator than in the past. Actually, you have the ability to install two units, if desired. This allows you to possible purchase a unit for wine and another for soft drinks and beer. And if a frig isn't in your plans, no problem, shelves are included. In addition, the areas may also be converted to pull-out trash bins for $99 each. Therefore, your options include, all shelves, a shelf unit and a frig unit, a shelf unit and a trash bin, two trash bins, a frig unit and a trash bin, or two frig/wine units.

This shows the nNew standard interior with an Avanti frig unit installed (purchased separately) to the left and an optional trash bin (+$99 option added)

Customizing the Interior
Customizing the interior is still an option. If you desire full-height appliances, more drawers, special keg unit, or anything other than our standard interior space, you may request a custom front interior. Although not firmly in place, we will likely increase the minimum charge for customizing the front interior. Currently, the minimum is still $250.

And to kick-off the new changes, we are offering a SPECIAL for the month of August and September.

Any standard 80" English Tavern ordered receives a free Danby wine/frig unit (DWC172) or a trash bin pull-out.

| | | |
| --- | --- | --- |
| | This does not include the 96" versions, JR, or JRII models. Options may still be ordered in this special. Thus, requesting the Special Canopy or granite/marble is acceptable. Ordered units in August and September will take 3 months. This special does not include any in-stock bars or other specials. | |
---
7/20/06
Every ordered bar is starting construction next week. In addition, we will finally start some of our other designs within a few weeks.

The Canterbury prototype is finally ready. There are 3 additional Canterbury bars on-order (60", 70", and 80"). Each will technically be a prototype....working toward the final design.

There will be a limited edition series come out in late 2006. The wood for this series will be American wood from Michigan. This series will be limited to 10 or less. The species involved will be cherry, white oak, red oak, hickory, beech, ash, and splated, curly, or quilted maple.

---

7/3/06
We're behind again. It's just a combination of several factors. I guess it is commonplace to wait 3+ months for us to make you a bar. I don't know if this is going to change anytime soon. We do appreciate the understanding.


---

5/25/06
Recently, we've experimented with several new wood types. Soon, we will introduce a selection of woods that will range in price from our base (bottom price) to our top price (currently mahogany). We're still not definite on our choices, but kauri's price and availability is not feasible anymore.

The 1-888 seems to be resolved. Remember, when you call the toll-free 888 number, it gets forwarded overseas. This is the reason for the odd sales hours and 'not so best' connection. Anyway, the number should be up-and-running by the end of the weekend.

If you have any questions about the current container arriving now, please call Kyle at the store. He can update the delivery schedule.


---

5/13/06
We've had an awful time switching the 1-888 number over to a new provider. Until this issue is resolved, we are removing the 1-888 number from the homepage. You may contact Lexington directly or reach us at the factory by using email. info@englishbars.com


---

4/23/06
There is a new finish option. We are calling the finish HISTORIC (insert base color name). We basically imagine this finish in our three most popular finishes.....Danbury Brown, Rockford Rust, and Essex Brown. The up-charge for the 'Historic' finish is $275. We do not have bars produced in this finish yet....but there are some on-order. You may view some bookcases in this finish at www.englishbars.com/bookcase/. We make a few items for our building materials store....and this bookcase is one of them.


---
4/15/06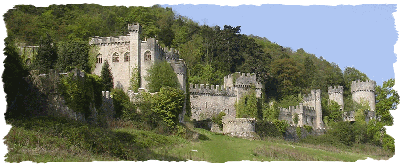 I was searching the internet again for castles. This might happen once a year. As you can probably tell, my inspiration is deeply rooted in architecture.

Anyway, I came across this article for a famous castle in Wales named Gwrych Castle. It is to be auctioned off on June 2nd, 2006. Although lacking nearly 1.4 million pounds of the proposed auction price and 3.5 million pounds of the estimated remodel cost, I was in love with this castle. I went and busted my piggy-bank, but the funds are still lacking. I think I'm going to have to let this one pass. Yet, there will be a time when I buy a castle.

I've probably viewed 300 castles in the past few days now. This is by far one of the grandest. I love the windows and the sense of its rolling width in splendor. It's not excessive in its might, and while large, it is not flamboyant in bad details. This is a man's castle. This isn't a château, a manor, or a palace. It's a real castle. Nearly half of the 300 castles I viewed were labeled or named a castle, but nothing of the sort.

We've been working on a castle bar for several months. I've already designed 2-3 that are incomplete. I want to add one design to the production line. Yet, I think I am going to modify it slightly and name the new bar Gwrych Castle. I really only need to change a few elements based on my past designs. This castle is everything I imagined in my head. It might be the uncultivated growth and deterioration that adds to its ambiance.

If anyone has the time, they might want to view the Trust's website below. The pictures are breathtaking and your head will spin with possibilities.
http://www.gwrychtrust.co.uk/

---
3/16/06
Originally, the plans were to complete the proto of The Second Empire and the Sir Walter, but we have just started the Canterbury and full specs are almost finished on the Grand Devon. We will release the Grand Devon page within a few days now - hopefully, by the end of the weekend. We decided to take a customer's request to complete a Grand Devon before the prototype was even started.

The Grand Devon's initial sketch was originally planned for 13'. We have scaled down the width to a more appropriate 10' (120"). In doing so, the center height is proportionally down from 108" to 101". Full specs will be released soon. And within a month or so, the completed project will be available for full details.

The Canterbury is looking rather sharp. We started with the simple 60" version and I am liking the height proportion of the top piece.

My favorite, of course, is still The Second Empire. And I'm not going to talk much about it until it is released in a prototype. This is still our most complicated bar design....and it's slowly being produced.

The Sir Walter keeps getting the back-burner treatment...although probably one of the most inquired about bars. You can order it, you just have to accept that there isn't a live version to look at. If you order it, we'll produce it....it's that simple.

The English Tavern is still available for production, but in mahogany (2-3 months). You can still order the Kauri (or Pine) version with a 4+ month wait. We do have some in-stock kauri bars available for immediate purchase. Just visit the current inventory page.

We're updating the granite and marble choices. We're adding some new granites.

In addition, we have started experimenting with the BLUM Blumotion Tandem drawer glides. This new drawer glide is rather clever. The drawer glide will be standard on our premium bars and might be available as an option to the English Tavern (at a later date). It is an undermount system with a sliding stop at the end...not a snap end.


---

3/8/06
So, it was kinda funny really.....I was online and caught a picture of Keira Knightley. Of course, I've had a fondness for her since Bend It With Beckham....and she looked elegant in Pirates of the Caribbean....but, I have no idea why she did the movie Domino....that was just a bad movie - that wanted to pretend it was cool. Anyway, I prefer to think of her in the pirate movie....so, my mind wandered to Pirates of the Caribbean.....and then to the Black Pearl Ghost Ship.

That's when I had my idea for a pirate ship bar. My office thinks I am crazy....and nobody really thought I was serious. Yet, we've spent 2 days on specs and general ideas now. We've even discussed how the hull would be designed and wood wrapped.

Now, I don't imagine this is going to be a hugely successful bar....in part because the price will be expensive and we're only going to make ONE for 2006. The size will be something like 60" x 160". The concept is crazy and we may forever own this bar, but we're going to build it. It will not be a front and back bar. It's going to be a ship...a single ship in 3D. The mast and sails will reach to 96"......and I imagine two hidden locations for an ice-maker and a frig unit. The topside cargo compartments will be dry sinks for displaying your iced beer. We have to think of some cool area to place a beer tap. This will be a funny distraction between the headaches....the problem is the voices keep getting louder.

Now, I've spent all the time I plan to devote to this project for the next two months. We have more important projects or 'realistic' projects. Yet, the Pirate Ship will move forward. We'll update this project with photos and designs - as soon as we have time. I have no problem posting this project because I'm sure no company will duplicate this design.....this bar isn't about making money - as much as saying we did it.

If this bar actually sells, we'll do another in 2007....with each being a different ship and history. The ship in 2006 is still yet undetermined. This would not be available for delivery until the end of the year.....even if someone was to place a deposit on this idea. Of course, the ship for 2006 isn't the Black Pearl. I don't need Disney lawyers sending me emails...or Steve Jobs mad at me. If you've ever watched an Apple convention, Jobs is truly a man that inspires....plus, you have to admire a person driven by passion.

Anyway, I guess it is back to my job. This is all Keira Knightley's fault.

THE PIRATE SHIP BAR


---

3/1/06
On future shipments, most bars made for STOCK will be mahogany. We are still going to keep the base price of $2998 for the standard English Tavern design (in Kauri or other wood). Yet, if you want the base price bar, this will likely need to be ordered (2-3 month wait). This decision is due to drying one particular wood at the moment for our future bars. We must devote more time to producing the new bar designs. All new designs will be mahogany.

In addition, we have released some of the new designs.

Why do we call the new marble brown/grey? Because it really seems to have the two colors mixed in the marble. And although that combination sounds ugly, it is a gorgeous combination. We'll get the technical name soon - so we can make it simple.

The knock-down is available.

---

2/10/06
Recently, I've been on a creative run. There are so many new designs in the pipeline now. The new design this week is going to be called THE SECOND EMPIRE. I have rushed sample sections of this through production to capture my idea. This will be a rather expensive bar since the materials and carvings are more complex. The final bar price will be $9500+

We are running a February special to promote the new brown marble. There will be only 5 of these promotional bars sold. The orders must be placed in February and the bar will arrive in April/May. Full details about this special can be found here.


---

1/23/06
We are running behind due to a kilning schedule issue. Nevertheless, there still is progress in the design improvements. We are making final changes to the standard design and finalizing, what I believe to be, our last improvements. As mentioned before, our standard bar design is now called, THE ENGLISH TAVERN. You may sometimes still see it referred to as Regular or Regular-L. The "L" reference always confused the customer. The letter "L" just meant "Large" and not a reference to the shape. Anyway, one of these days, we will clean-up the site and design something more professional.

There are some in-stock bars (in KY) ready for immediate purchase.

---

12/9/05
We are working several new items
Copper Table Tops

Copper Wet Sinks

New Upper Back - called the English Tavern JRII - for lack of a better name.

Some of the new designs are in production
We have named our standard bar - the English Tavern. The same bar without the canopy is basically the English Tavern JR (84" in height). In addition, we have designed a new back...simply called JRII. The height of the JRII is about 90" (under 8').

We're are really trying to change the website. Yet, all we've done is make it more of a mess. The current inventory page is typically kept updated within a day or so.

The toll-free 1-888 number forwards overseas. The connection is lacking most of the time. You are welcome to call, but email is always best. Pressing 2 gets you to Lexington, but sales questions will be limited.

---

10/27/05
The schedule is a little behind...but not as bad as the past.

We are 'finally' moving ahead with all the new designs. Honestly, they look great. As of today, we have 5 new designs.....and they are not released yet. If I release them, you'll have questions and I won't have answers. The bar pictured below is called the GRAND DEVON. The front section is not complete yet. We also have 3 corner bars coming! Each corner bar is unique in their own way and looks great. Serious.....I'm proud of every new design so far.

The first knock-down canopy is shipping for arrival in January. This has an upgrade price of $500.....and breaks the canopy into sections for assembly IN YOUR HOUSE.

We are also working on some nice 60" bars (and smaller) without canopy. The first design turned out really nice.

Check back by the middle of November for release of the new designs. Prices will be posted and you may reserve shipment.

---
8/31/05
The production schedule is basically set for the remaining year. I will return to the factory in the next month and work the rest of the year to introduce the new designs and several of our larger custom projects. The new designs will be exclusive to EnglishBars.com......since they are our creation and not a copy. My primary objective for the remainder of 2005 is to introduce all the new designs.

If you've been a backburner custom project, I will look at this again when I return to the factory.

The sample chip packs have been delayed.

Kiln
We imported a large Nyle kiln this year. I hope to have this up and running by the start of 2006.
---

8/5/05
I am back in Kentucky. Honestly, if you have custom bar design requests, we're just not working on them right now. We have a few new styles that we are tweaking and releasing in the next few weeks. If you want something custom (in a bar design), you need to go to someone else. We might start looking at custom requests again in 1 month.

This current container has arrived in Kentucky and we are preparing for it to arrive. The current bars will leave next week.

---

7/1/05
Shipments are moving. The new options are now being installed. We are updating the site to show the options we added. The new site is still being delayed. We will have the wood sample chip packs available in August. It is $15 for the Kauri Pack, $10 for the Mahogany Pack, and $10 for the granite/marble Pack. Naturally, the price is refunded from the purchase price...if you buy a bar. You'll be able to order the PACKS online.

Wood Table Tops
We are pleased to announce a few changes. Our wood top is now about twice the thickness. The appearance is not thicker, but the actual top itself was only 1.5-1.6cm in the past. We are also multi-coating the top. We have always used an industry POLY finish. We do not use wax, NC, or Melamine. Our finishing coat is far superior to the generally imported bar sold by many factories. We also switched to an anti-scratch finish. It's a little rougher in feel, but has a greater protection rating. Please remember, anti-scratch DOES NOT mean it will not scratch. It just means it resist scratches better.

We also recently imported a Taylor Clamp Carrier and our wood table top joints are flawless. Nothing beats a Taylor clamp to hold the joint. We're using Franklin Adhesives on our table tops (imported from the USA). We're just really excited about the quality of our wood tops now.

Kiln
We've also improved the kiln operation. Since we are a direct manufacture, we do cut the logs, sawn the timber, kiln the wood, and produce the bar. We can guarantee the kiln process (unlike others). We're slow, but at least we try and get things right.

Options
The first bars being shipped with wet sinks look great. The brass railing is very impressive too. It is a very nice heavy-duty set. This is not your Rockler brass tubing that is thinner. Also, notice we work the angles in brass....we don't use corner connectors.

New Designs
Sooner or later. We've been saying this since 2003.

---

4/17/05
Yes, orders are finally being processed. We can take your orders now. We are FINALLY moving on the options and other designs....but this will still take some time.

---

4/9/05
I want to sincerely apologize for the delays in email responses and confirming orders. We are trying to remedy this problem. All orders can be placed by calling the 888 number or emailing.

---

3/12/05
I am at the factory and can be reached by 1-888-2998-782 (option 1) toll-free. We are back in production and hope to introduce a few more options. All people interested in a bar, can place their orders now. It's best to email the particulars and then call with all questions and deposit information.

I'm still a little pre-occupied with a few Indonesian government problems and will not accept complicated bar orders. Once I have finished with these jokers, I hope to spend more time on development.


---

2/5/05
I am back from the factory. I have had some trouble with the 1-888 number. Below the number is the direct store number, in case.

The base price is going from $2799 to $2998. This reflects all the changes being made, the price increases, and the new shipping methods. The marble and granite prices are also rising by $250-$400 per set.

Over the next 3-4 days, I will update as much information as possible. Hopefully, by Feb 11, all the new info will be posted.

---

12/22/04
Shipment K is finally on the way. We are looking for a delivery on December 27th (at our location). We hope to ship all bars out by the 30th. We will be contacting everyone before shipping.

---

12/7/04
Shipment K
We just received notice today that the last shipment for 2004 is being detained in Washington State for a USDA exam. Apart from having to pay for the exam, this will likely delay the container until after Xmas.

Raw Material Price Increases
When importing containers, the US Government charges the importer for its exams. This is not US Tax Dollars. The exam and extra trucking fees add roughly another $1000 to each container. This is in addition to the 2004 price increase in shipping relating to the "pirate" insurance in the waters around the South Pacific. This increased our container cost about $800. In all, we have seen "real" shipping cost rise about 20%.

In addition, staining and finishing cost have risen an amazing 75% over the last 6 months (raw materials). As mentioned below, marble/granite prices are up 20%-40%. Kauri wood is up 50%. Mahogany is holding steady.

What does all this mean?
You don't have to hold an economics degree to understand this cause and effect. For 2005, the base price for our Kauri bar will be just under $3000. The marble/granite top prices will also rise accordingly.

We can't continue to absorb these price increases anymore. Granted, if we were some of the furniture stores charging $5000 for our standard wood top bar, we might be able to handle the price increases. Yet, at under $3000, we have to watch our margins closely.

2005
We really have some neat items to introduce in early 2005. Please check back in early February, 2005.

---

10/18/04
Shipment J will hopefully start shipping and/or be available for pick-up the week of 10/25. I just received word the container left Long Beach today. Therefore, it was delayed about a week in CA.

---

10/17/04
We have a few wood top bars available on Shipment K. The old finish bar pics will be posted soon. Any questions can be directed to the store. We are hoping to have Shipment J bars available for pick-up the week of the 22nd. Shipment K will be the last shipment for 2004. We are using November and December for organizational purposes and preparing for custom orders. Normal shipments will resume in January 2005.

---

10/1/04
I am making a quick trip back to the factory for 10 days. I will return by the 12th – in time for the current shipment arriving. Any phone calls or questions concerning the bars can still call the store….and follow these procedures: when you are in the store phone system and listening to the message, press 250 and this will forward your call to me at the factory (like entering extension 250). Granted, the connection is rather poor and this will not always work. There will be a long delay as it tries to connect. There is a PM/AM switch. I will answer calls up till noon (EST). If you press 0 and speak to the store employees, you really won't get anywhere….they'll just keep referring you to me. I will be answering emails…but expect a slight delay.

The online Herald-Leader auction is a local newspaper event. You may view the auction by clicking here. I want to make this very clear…..we will not ship this bar. This is an IN-STORE pick-up ONLY. If you win this bar, you do not pay us….you follow the rules and payment instructions of the Herald-Leader.

---

9/6/04
We are working on a knock-down CANOPY. For all the people who can't get the canopy down in your basement, we have the solution. This is still a CAD drawing, but doable. We are building the first prototype now and will likely release this at the end of the year. The up-charge for this option will likely be in the $250-$400 range.

We are also working on a brass railing to run along the bottom. The difference in our brass system is it is ONE SINGLE piece (worked at all angles). This is not comprised of various tubing and accessory pieces. Brushed Stainless Steel will also be available. Again, this is still not complete. We'll introduce this at the end of the year too.

Shipment K will have WOOD TABLE TOPS. As a matter of fact, most will ship with wood tops, unless a customer requests otherwise. We've not changed the current inventory page to reflect this decision.

Shipment K also contains (2) experimental finishes. Both finishes are rather distressed with scratches, holes, marks, and aged characteristics. Granted, the current bars shipped have an aged appearance, but not like this. I believe both finishes will have black granite for the table top….because it looked the best with the stain color. Both finishes are dark and will carry a premium up-charge of $250. These finishes are quite unique and should be very popular….because I was very impressed.

Bar prices are also going to rise between $75-$150 each within the next month. Several raw product costs have risen 50-60% and this is pushing our margins.

The first of the year we are shipping mahogany and an odd Asian walnut wood in Shipment L.

The corner bar is temporarily on hold (expect for the four that shipped). We're going to redesign the aspect ratio and tweak a few issues I don't like.

You will be able to place orders after the first of the year.

---

9/3/04
I'm sorry for the slow responses. I was at the factory for the last month and our email connection was the worst ever. Honestly, I just stopped checking email and replying. I'll post an update soon on the new options shipping in 1-2 months. All current customers will be receiving an email shortly relating to anything we have in queue for you. The current shipment pictures will also be posted within a few days. Again, sorry for the delays.

---

7/15/04
Shipment K will see the marble/granite prices rising by $150-$200 per bar. We've had a 15%-25% increase in marble/granite costs over the last 2-3 months. I'm leery of using other suppliers. I was hoping this was going to be temporary, but it's not looking that way.
I'm going to keep prices the same for Shipment J.

I have two SPECIAL CANOPY bars shipping. This is another good idea, but it still needs some modifications to the size/aspect ratio.

NEW WOODS
We currently have three containers of North American wood shipping. In late 2004, you will have the option of cherry, hard maple, oak, beech, red maple, and some European & Russian woods. We are also expanding our South East Asian wood line.

---

5/20/04
I am back in the states and I am available at the store to answer any questions - (859) 255-4700.

---

4/21/04
I am at the factory at the moment. We've just purchased a new location with over 25,000 sqft. This should help us logistically plan our production strategy a bit better. Currently, we are a bit unorganized and never meet schedule. This has been going on for the last 3 years. I am afraid the new location issues will further delay the production schedules before it actually gets better. We really do have some amazing new stuff to introduce. I will say the new designs will not be introduced until we release the new web site with all the new features in the current bar design. There will be a lot of options available in our current design soon.

I expect we will be fairly organized by the end of the year. Currently, the old system we have developed is still the status quo. To view our current inventory, click here. At the top of the page is our current USA warehouse inventory. It is simply labeled CURRENT INVENTORY. The current inventory is available for immediate purchase and shipping (within 3-4 days). The other sections below are shipping or to be shipped inventory. The to-be-shipped bars are available for purchase with a $500 deposit. You can only view pictures of the IN-STOCK bars or currently shipping inventory. We only upload the pictures before they ship.

Here are a few statements to some recently asked questions. We do plan on producing wood table top bars again (soon). No, currently, we still are not taking custom orders. Yes, we will make slight changes. We do not have anything over 96" in length. No, we do not have additional pictures, other than what is provided from the site. No, we do not have a brochure. No, we do not have stain color chips (yet).

Honestly, I'm a little more concerned about the production issues and the quality control situation than worrying about marketing for the moment. It is a slow process for us.


---

3/1/04
I have finally posted the marble/granite pictures. Yes, the marble/granite system is now patent pending. We actually backed up the concept with two patents. I am really excited about our design….and now you get to see why. Marble/Granite slabs are not included in our patent, of course.

The web site is coming along fine. It's probably still another two months from release. Honestly, there are a lot of things we need to do at the factory before we release the design-a-bar feature.

Take a look at Bar #61….and tell me if that isn't a gorgeous colored granite.


---

2/18/04
10% Discount
We have reduced the remaining mahogany bars. We rarely discount product. If you are interested in a mahogany version, this will be the last of the mahogany versions for the next few shipments.


---

1/7/04
SHIPMENTS
The first shipment arrives Friday (1/9/04). The first shipment in 2004 will contain a majority of mahogany versions. The pictures from the factory are very disorganized, yet, this is the actual bar you would receive. CURRENT INVENTORY

NEW WEB SITE
We are finally working on the design of a new dynamic web site. The new site will provide a wealth of information, pictures, sketches, and a design a bar feature.

MARBLE & PATENT PENDING
The marble/granite pictures will follow in a few days. The lawyer wants all the papers filed for the non-provisional patent before they are released. I am excited with our marble system design. If you have ever seen this bar with a lame marble slab, you will truly realize the beauty of our design.

NEW FINISH
The new stain colors are slightly different than before. Please base your decisions on the pictures from the CURRENT INVENTORY page…..because this is the actual bar you will receive.

---

9/21/03
I want to thank everyone for the emails. I also want to apologize for the long delays.

I guess trying to do everything has taken forever to do anything. At the beginning of the year, I had grand hopes to introduce a lot of new changes and new designs. Along the way, things have either interfered or problems persisted. I spent 2 months at the factory in May and June. I got a bit hung-up when someone offered us a closeout on some teak garden furniture (www.salvagebuildingmaterials.net). This took a few weeks and drew attention away from our goals. We also produce other items in the factory…although moving toward bar production only. In June, I did see the completion of a new staining method and new procedures to our small details. Granted, I have not seen the fruits of our labors….only pictures.

Basically, here is where I am at:

I am tired of working on the stained glass. Nothing pleases me in the color combinations and/or designs. I will work to fix this later. This has been the biggest delay to the entire project. In hindsight, I made a huge mistake waiting this long trying to fix this issue. I am taking the stained glass out of the price.
I am shipping more marble and granite. There will probably be 4 colors to choose from……2 black granites, 1 green marble, and 1 red/black granite.
I am working the final months of the year to finish and ship the 50 bars produced. About 15-20 bars make a shipment. You will see the shipments land in November through December. From our current shipping inventory, we have (4) corner bars, (4) 96" bars, (4-5) front and back bars only, and various sized regular English Bars.

The prices of the bars will drop. I am not posting the final prices yet, but I expect many people will be pleased. Since I am shipping the bulk of my inventory at once, I want to move it out quick. I will be posting pictures of the 1st shipment when available. When the pictures of the1st shipment are posted, you will see the actual inventory available. You will be able to click and pick a bar. I will then take deposits again. When the bars arrive, they will ship 1-2 weeks later. This site will become alive with current pictures and details on the next four shipments in October.

If you are not flexible on your timeframe, don't plan on us. Honestly, I haven't met a deadline set yet.

We are still producing 7-10 bars per month. Some of the new inventory is our future designs. This will be introduced in 2004.