English Tavern
at EnglishBars.com
Changes to the English Tavern design have recently been announced and updated on this page. This page reflects the current pricing and shipping specifications for orders placed after December 2006. This page is not fully updated with all the new pictures.
For the English Tavern produced in 2005 and 2006, please follow this link to view specifications and information relating to PRODUCTION NOTES AND ISSUES. Some 2006 4th quarter English Tavern's have some of new features.
Our first and most popular bar design. This bar is available in various forms and sizes. At the bottom of the page, we have developed a simple table and color coded the three important size aspects to this bar (width, depth, and height). Now, we know the table may look confusing, but if you just take a moment, you are sure to understand the concept. We basically have (2) widths, (2) depths, and various options on height.

Model Names
The English Tavern is the name given for our full-canopy bar version. Consequently, the English Tavern has also transcended its original form into two other simpler versions - the English Tavern JR, (ETJR) and English Tavern JRII, (ETJRII). As a matter of fact, we have developed this naming scheme on all our bars. You will notice the original name as the full design (maybe the canopy version) and any variations to be JR models.
The Design
The standard English Tavern is 80" in width (6' 8"), 82" in depth (6' 10"), and 89" in height (7' 5"). There is also a larger 96" width available, a reduced depth model, and various heights, in addition to the standard size. This gives the customer a fairly broad range of size options to fit their requirements. If a truly custom option is required, read below.

The inside height from floor to the top of the canopy is 79" (7' 5")....this includes the standard canopy and the SG Special Canopy. Therefore, this model is well-suited for most height requirements. An NBA height bar could be purchased with an inside height of 86" - 96" in total height....or some combination thereof.
Other people have copied this design over the years. Yet, keep in mind, if this bar was not purchased here, it is not our bar. You will see many variations of the design - different poles, sizes, proportions, angles, options, and stain/finish colors. Again, our quality and their quality are not the same. This bar is only available from us inside the United States

and Canada via this website.
There are four main components to the bar. Each component arrives in a box for assembly at your house. The assembly is rather simple, as illustrated above.
The Construction
We use only solid wood in our construction. There is no particleboard, OSB, or funny wood. We've recently started using choice veneers on some inside pieces. We did this not so much as a cost issue, but quality and speed concern. We use no veneers on any exterior wood pieces. The veneers amount to filler and inside pieces. The veneers make-up less than 5% of the bar wood. Technically speaking, veneers (plywood) is still deemed solid wood. Therefore, solid wood can still be used in terminology. The use of veneers is an upgrade in our bar construction in various ways.
The back has one large beveled mirror, two smaller upper right and left arched mirrors, and two smaller lower right and left mirrors.
We use all mortise and tendon construction (machine, not handmade - new since 2005). We use side-block reinforced edges. Our frame is stouter and the bar is solid. We use spaceballs in our wood panels (new for 2006). The dovetail drawer was recently upgraded (new for 2006). All-in-all, our construction is well-built.
Our Finish
Truthfully, this is one of our best selling points. We use an industry poly finish with a multi-coat sealer. There are no shortcuts in the finish. We blend a special topcoat at the chemical plant for our finishes. We get the question often, "how does your finish hold-up to water stains".....and to answer that question, we decided to hold an experiment. The test results are posted here.
Each bar is sanded (3) times before the stain is applied.....and (2) additional times during the finishing process (between sealing coats).....and a final 1000/3000 grit. We're not saying we have the best finish in the world, but it is good....far superior than most importers in our area. We also know we are one of the 15% or so export factories using a poly finish (per the chemical plant).
One last note, our finishing raw material runs 100% higher than comparable melamine or NC sealer or topcoat finishing. The difference might be minor to the eye, but it's the materials that ultimately decides the longevity of the topcoat.
Our finishing gets better each year. If you expect a piece of Herndon furniture, that's not us. Yet, we make every attempt to provide a durable and quality finish. There are 60+ bars posted with over 1000 pictures. Judge for yourself.
Also, new in 2006 is our HISTORIC finish in all 3 base coats (Danbury Brown, Rockford Rust, and Essex Brown). This finish resembles more of an antique look.
The Interior (new change for 2007)
The new front interior of the English Tavern is labeled STANDARD 2007 model. It contains two dovetail drawers in the center. The right and left are flanked with a new open shelf system. The middle interior has room for a compact frig unit and/or a trash unit or a combination of both. Yes, you could install (2) frig/wine units if desired. The drawers of the English Tavern are 5/8" solid wood and feature no plastic or metal drawer glides. The drawer system is completely free-fl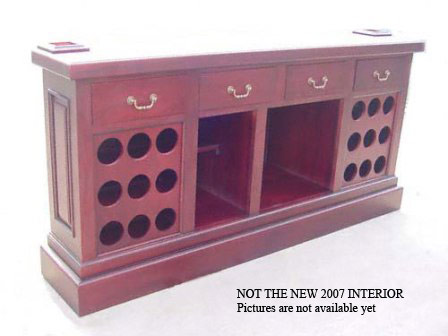 owing....there is no tacky KV plastic side-runners (like kitchen cabinets).

The picture to the right is the new STANDARD front interior (for 2007). The thumbnail to the left is also a rendition of the new 2007 standard front interior. You may click any of the thumbnails on this page for larger pictures. The thumbnail to the right shows a wine frig and a trash bin (+$99). The adjustable shelves may be removed at any time and the frig/wine units installed. The trash bin must be ordered with your bar. It is not an add-on feature for later.

Click Here for a picture of the STANDARD 2007 96" model front interior. There is a slight difference.
The English Tavern front interior may be customized for your particular appliances or requirements at a minimum up-charge of $750. Click this link to read more about your frig options relating to the STANDARD ET 2007 interior.
The lower back of the English Tavern also has four dovetail drawer units running along the top edge. The entire lower section is open with adjustable shelves (new feature). We will post a picture of the back at a later date. Please keep in mind that the past pictures do not reflect the current production interiors.

We do offer the lower back with doors at an additional cost of $150 per pair.
New to 2007 also includes (1) of the two large poles to have an electrical channel running down the center of the pole. Therefore, this allows you easier access to run the wiring from the back, through the canopy, down the pole, and into the front section. Thus, we've solved your electrical problem. Wiring not included. We've given you the solution, you just have to do the work.
Hardware (new options for 2007)
And for hardware, we only use high-quality solid brass handles that are 96mm - not the standard 3". Some others might advertise solid brass, but it is low-quality local set that doesn't match in proportion or style. As a matter of fact, each handle cost us $6....we buy them out of Canada. The handle is full-cast too. None of that solid front and hollow back handle stuff. The handles are made in Italy. Want to install your own handles? No problem. We'll give you the $50 credit and keep the handles. The handles are pre-drilled at the factory for 96mm and then given to you separately with your bar or shipped separate.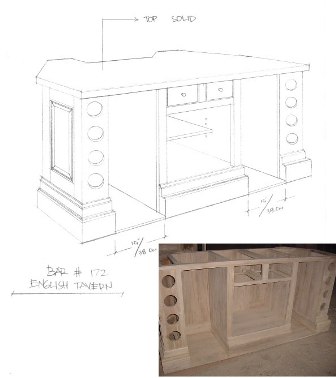 Customized Interiors (new changes for 2007)

Due to the delays in production caused by customized interiors, we have increased the minimum charge to $750.
We believe the new changes to the STANDARD 2007 model will work for most customers. The ability to install (2) compact frig units gives you about the same cubic meters of a full-size frig....and you can make one compact frig unit a wine frig and the other could be a regular frig (you just adjust the temp controls). The doors are reversible.

Here are two examples of customized interiors. The example on the left is Bar #172 and the customer requested (2) 15" openings. This was likely for an ice maker and a frig/wine unit. Yes, there are issues in plumbing that customers must deal with when going this route.
Please consult with your installer or plumber when considering your options.
The back section is only 16" in depth. This typically prohibits any appliances in the back section. There are some options recently available. Please consult the bottom of the page to learn more about a possible solution to the back appliance issue.
The following link is our "customized interior worksheet". You may print this worksheet to 'roughly draw' your customized idea. Then scan your drawing again and email it to us. We can quote your interior up-charge based on your sheet. You may also try and alter the image and email - if you do not have a scanner/printer. This can be done with various programs including the free Microsoft Paint program under Accessories (click START and then ALL PROGRAMS and then Accessories).

The thumbnail to the right is a standard custom job of a proportioned reduction to the height from 93" to 88", brass railing, wet sink, SG special canopy, mirror to SG, cabinet doors, and a custom front interior.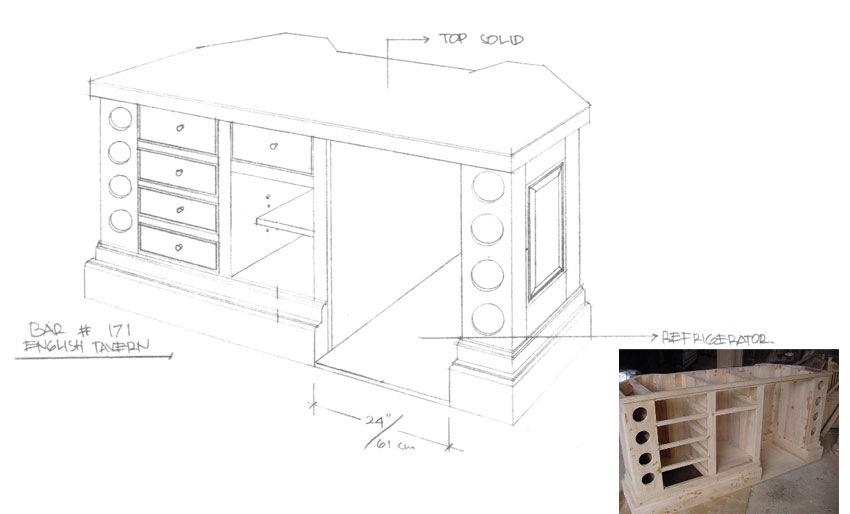 The example on the right is designed for a 24" wine/frig unit.
Customized interiors or any customization will delay your bar production. The delay depends on your request, current factory orders, and/or available wood.

Tabletop Options (new profile design for 2007)
The bar comes standard with a solid wood tabletop.
We also introduced a new tabletop profile in late 2006. The new profile is a more defined built-up lip. The thickness did not change. Our top is still 3cm compared to others 1.2cm to 1.8cm. Bang your fist down on our top and bang your fist on their top. You'll hear and feel the difference.
After the lips are installed and profile cut, the overall thickness is 6cm. The difference in ours and theirs is OURS IS a 3cm top and 3cm lip. They offer you a 1.5cm top and 4.5cm lip.
There are options to upgrade your top to either granite or marble.
In addition, a copper top is in the works, but not yet available.
I'm Confused. Where's the easy BUY IT button?
If all the options and technical specifications has your mind a bit frayed, just remember the English Tavern, wood tabletop, with a standard canopy, in Mahogany wood is $4,798. All the other options are just add-on or available. Sorry, there is no easy BUY IT button. Yet, if you do want to learn how to order a bar and more information related to time issues, go to HOW TO ORDER A BAR.
05/29/2008 Update
Mahogany

Wood Tabletop and Standard Interior A

Width
Depth
Height
Model Name
Standard 80"
Large 96"
Standard

Reduced

Standard
English Tavern

w/canopy

$4,798
$5,498
82"
75"
89"
Front Interior option B
+650
+650
SG Special Canopy
+775
+925
taller at 93"

Knock-Down Canopy (80" only)

+750

n/a

16-gauge copper round sink

+385
+385

16-gauge copper logo slide-in sink

+875
+875
English Tavern JR
n/a
n/a
70"+
N/A
84"
English Tavern JRII
$3,998
$4,398
70"+
N/A
92"
SIZE of our Bar
Our bar is built bigger and uses about 25% more wood (than most of our competitor's). The link here highlights the differences in size. In some cases, you may want/need the smaller size. Unfortunately, we do not sell the smaller size. If you need the smaller size, there are people on ebay/internet that sell the smaller size. Yet, we sincerely caution you against buying their product. If our product doesn't fit, don't buy ours and don't buy theirs.
SG Special Canopy (optional)
The English Tavern is also available with an optional Stained Glass Special Canopy. In this concept, the canopy is larger in height and comes with forward-facing

stained glass. Currently, we are not complicating the stained glass design and only offering it in a tudor-style diamond pattern. The diamonds are available in either blue, red, or green diamonds. The outside border is wrapped in yellow with the inset being opaque clear white. The default diamond color is blue - if not specified by the customer. The forward-facing stained glass is included in the SG Special Canopy up-charge. The underneath stained glass is not included (and can be purchased separately).
Underneath Stained Glass (optional)
The English Tavern does not come standard with underneath stained glass. This is an optional feature. Yet, all the English Tavern bar canopies have the

lip for stained glass. Therefore, you can add stained glass at a later date, if you so choose. The lip size is roughly 1/4". Over the years, the underneath canopy openings have varied slightly. We are

currently standardizing everything in this bar design and hope to have this specification a fixed issue soon. Again, we have kept the SG option rather simple and just offering the pattern as a simple tudor-style diamond pattern (level 1 under options). Eventually, we will offer more complicated patterns. The JRII comes with its full stained glass package (as described in its description).
A full list of options are available on the OPTIONS PAGE.
Dimensions
Dimensions
Width
Depth
Height
per piece
Standard
Custom
Front
80"/96"
30"
28"-34"
38"
Back
80"/96"
16"
17"-24"
38"
+$500-$1000
If you decide to custom depth either the front, back, or both, the total depth on the canopy cannot exceed 84". Thus, your front and back pieces will be enlarged, but you will reduce your interior walkthrough space. This issue does not apply to the JR or JRII, since these are not set by a fixed canopy.

In addition, if you buy a marble/granite top, your bar cost will also be subject to an increase in stone sqft charges, if increasing the front or back greater than the standard.

English Tavern
Total Depth
Front
Walkthrough
Back
Standard
82" =
30"
36"
16"
Reduced
75" =
30"
29"
16"
Why custom depth a piece?
There's been increased interest in customers wanting appliances in the back section. Although, something we really do not want to offer on this model, we will attempt to accommodate this request for an up-charge. The front section depth adjustment may be required for some special appliance/table inserts or just wanting a bigger tabletop
Can I get an English Tavern reduced further than 75"
Yes, it is possible, but after 72" in depth, your up-charge will rise severely due to your options in construction required in achieving this goal.